We will review some important records achieved in previous competitions as the highly anticipated 2023 FIFA Women's World Cup approaches and consider whether they can be broken in this intense competition. From Michelle Akers' goal-scoring feat to Formiga's unprecedented consistency, we'll explore the challenge of surpassing the record for the youngest goal-scorer and Nadine Angerer's clean sheet record in this scorching heat.
As the 2023 FIFA Women's World Cup rapidly approaches, and while the focus will be on the world's best players vying to win the tournament, it promises to be the biggest edition yet, guaranteeing records will naturally be shattered along the way. Here are some of the most impactful records in the Women's World Cup, and whether we believe they can be broken in this scorching heat.
Most Goals Scored in FIFA Women's World Cup
Michelle Akers solidified her legacy with her remarkable performance in the 1991 FIFA Women's World Cup, setting a strong foundation for her career. She scored an astonishing ten goals in the inaugural edition of the tournament, which stood as the highest number of goals scored by any player in a single edition of the tournament. Akers notably netted five goals in a resounding 7-0 victory against Chinese Taipei and crucially scored two goals in the final against Norway, securing the first World Cup trophy for the United States. She not only claimed the Golden Boot as the tournament's top goal-scorer but also won the Silver Ball, cementing her status as the second-best player in the competition behind her teammate Carin Jennings. Akers retired in 2000 with an international record of 105 goals in 153 matches, a remarkable feat. In the same year, she was honored with the FIFA Player of the Century award alongside China's Sun Wen.
Can this record be broken in the 2023 FIFA Women's World Cup in Australia and New Zealand?
Several great goal-scorers have come close but none have managed to reach double-digit goals. Heidi Mohr (Germany), Sissi (Brazil), Sun Wen (China), Birgit Prinz (Germany), and Marta (Brazil) all scored seven goals to come the closest in recent competitions.The goal scorers in Australia and New Zealand are exceptional. but with even more competitive teams in this magnificent tournament, it is highly unlikely that Sam Kerr, Alex Pop, Ada Hegerberg, or Alex Morgan will be able to score more than ten goals. Akers' record seems safe for now.
Youngest Goal-Scorer in FIFA Women's World Cup
Elena Danilova, representing Russia, made history in the 2003 World Cup by scoring her team's only goal in a 7-1 defeat against reigning champions Germany. She was just 16 years and 107 days old at the time. Despite showcasing her remarkable talent at such a young age, Danilova's career was hampered by injuries, and she never managed to leave a lasting impact, ultimately retiring from football in 2018. Can this record be broken in the 2023 FIFA Women's World Cup in Australia and New Zealand? Only four 16-year-old youngsters have been called up for the upcoming tournament, and among them, only South Korea's Casey Fair is younger than Danilova when it comes to scoring goals. South Korea's head coach, Colin Bell, has stated that Fair is "going there not as a tourist but as a valued member of the team, and there is every chance she'll make it based on her ability."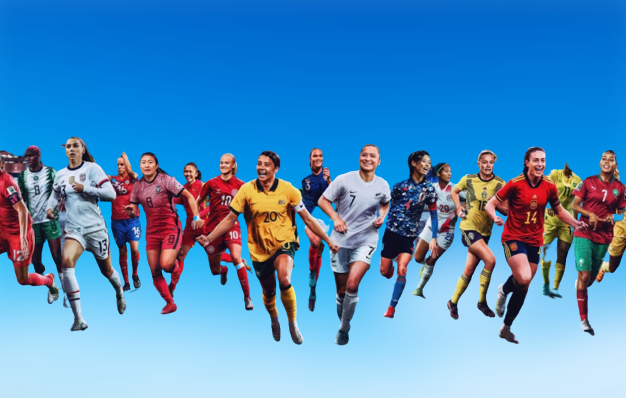 Formiga's record.
It comes as no surprise to see Formiga as the oldest goal-scorer in the FIFA Women's World Cup, having scored at the age of 37 years and 98 days during Brazil's Group E opener against South Korea in 2015. Being hailed as a trailblazer for future generations, Formiga boasts numerous records, including being the only player in history to participate in seven World Cup editions. Thanks to her remarkable dedication to representing Brazil, she accumulated an impressive 234 appearances over a span of 26 years, setting a record for any Brazilian player, male or female. Can this record be broken in the 2023 FIFA Women's World Cup in Australia and New Zealand? It is certainly a possibility! Some of the greatest goal-scorers in the game, such as Christine Sinclair, Megan Rapinoe, and Formiga's former teammate Marta, all have a high chance of finding the net in Australia and New Zealand.
Most shutouts during the FIFA Women's World Cup
Nadine Angerer achieved a record in 2007 by not conceding a single goal as Germany maintained their title-winning campaign for a remarkable 540 minutes. In the final, she faced off against Marta, who won a penalty but somehow Angerer managed to save the crucial spot-kick, preventing the finalists from a 1-1 draw. Reflecting on her tournament, Angerer stated, "It's obvious that I'm especially proud of not having conceded a single goal during the 2007 Women's World Cup in China and being able to save that penalty from Marta in the final against Brazil. Being the starting custodian for my first major tournament was crucial for me, but football is a team sport, and I am also aware of how amazing our team was at the time.
Can this record be broken in the 2023 FIFA Women's World Cup in Australia and New Zealand? This is a record that can only be broken by not just one goalkeeper but the entire team's outstanding performance. As the competition gets tougher with more teams vying for success, scoring more goals will be synonymous with competing against stronger opponents, making it challenging to maintain a high level of play and consistency throughout the entire tournament. You can't count bad goals or unfortunate penalties, even if you have the best goalkeeper in the world between the sticks.