Mega Millions: "A person in Florida has won a massive $1.58 billion jackpot – the largest in the history of lotteries. The winner now has the option to claim approximately $757.2 million as a lump sum or opt for the full prize over 29 annual payments".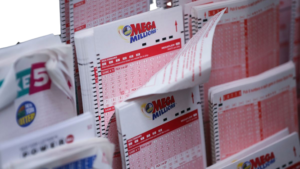 "According to the lottery website, the winning numbers were 13, 19, 20, 32, and 33, with the gold Mega Ball number 14 – matched by a lucky player's ticket in Florida. According to lottery officials, this $1.58 billion prize is slightly larger than the $1.537 billion Mega Millions win in South Carolina back in October 2018. Before Tuesday night, no ticket had matched all six numbers drawn in about four months since April 18″.
"The identity of the $1.58 billion winner hasn't been revealed. The winning ticket was purchased at a Publix located on Atlantic Boulevard, Neptune Beach. It was claimed less than three months after it was sold, making the winner eligible for a $100,000 bonus. Tuesday night's jackpot was the third-largest in US lottery history overall. Mega Millions tickets, priced at $2 each, are sold in all states except Alabama, Utah, Alaska, Hawaii, and Nevada".
"The odds of winning the Mega Millions jackpot were roughly 1 in 302.6 million".