In his Labor Day speech, President Joe Biden took a jab at Trump's job record
President Joe Biden celebrated Labor Day in front of a crowd of union supporters in Philadelphia. Biden, who claims to be the most union-friendly president in history, spoke at the Tri-State Labor Day parade organized by the AFL-CIO, featuring representation from over 100 local unions, with a total of 150,000 workers.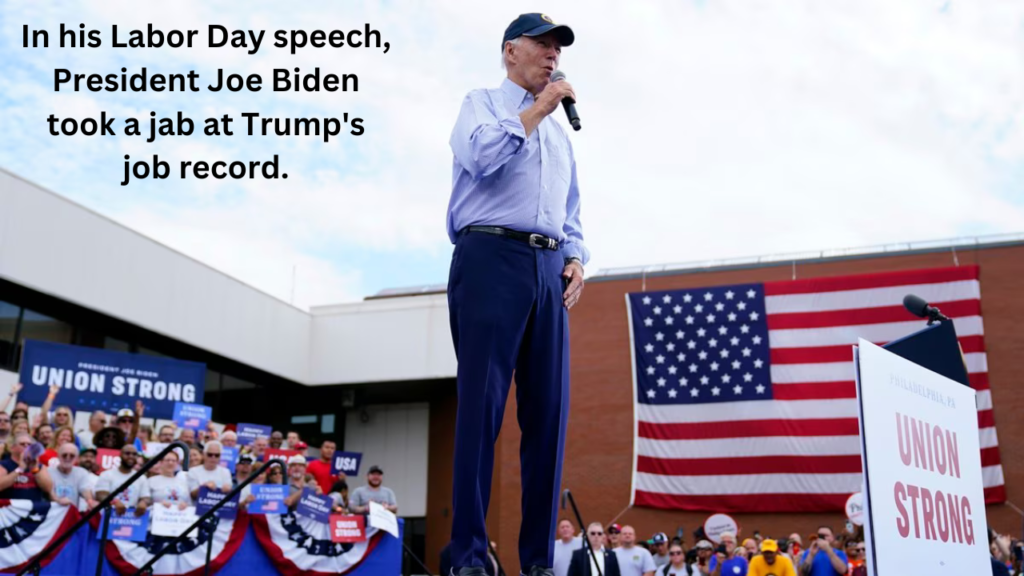 There, he addressed the potential preview of his 2024 re-election message by taking a swipe at former President Donald Trump's record while mentioning job creation and other economic initiatives.
Despite economic pessimism, the White House sees an opportunity for 2024 in the pitch of "Bidenomics."
In his Labor Day speech, President Joe Biden took a jab at Trump's job record: Biden referred to his comprehensive economic vision, saying, "Bidenomics is a blueprint for America. It's about working for you, because when it works for people like you, it works for everyone."
Despite positive economic indicators, surveys have shown that Biden has had to struggle to explain the management of the economy to voters. Last Friday's release of the latest job numbers revealed slow hiring and wage growth in the United States in August.
On Monday, the president hammered on economic improvements amidst the COVID-19 pandemic, including the creation of 13.5 million jobs, historically low unemployment rates below 4%, and reduced inflation.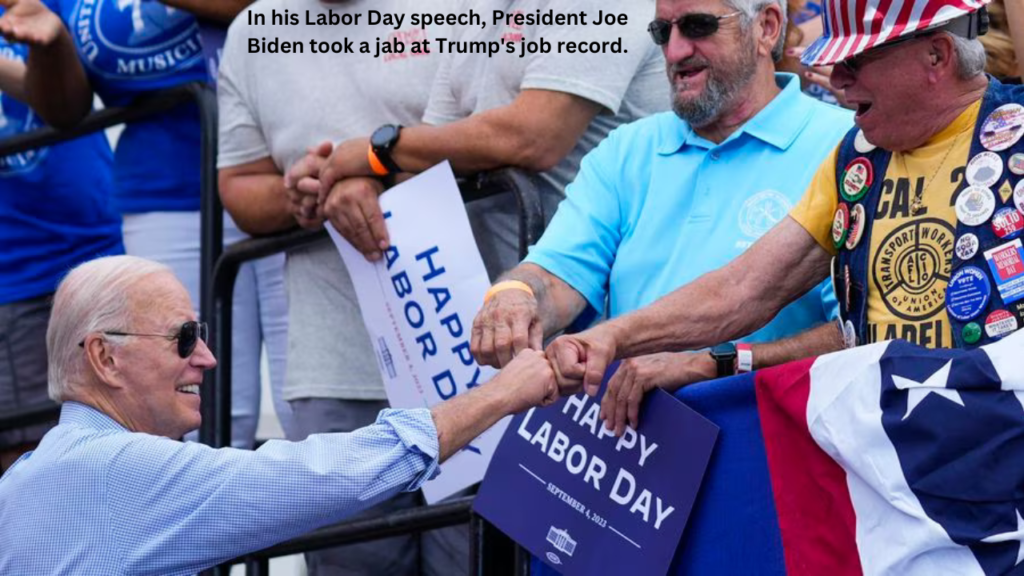 Biden called it "one of the greatest periods of job creation in American history," adding, "No matter what negative news you hear, you won't believe it."
We were losing jobs in this country not so long ago, he said. In fact, the guy before me, he was one of two presidents in history… who left office with fewer jobs than when he started. Elected to office."
On the infrastructure front, Biden highlighted the addition of 800,000 construction jobs nationwide and the passage of a $1.2 trillion bipartisan law to improve aging roads, bridges, transit systems, and more.
He noted that millions of dollars have been spent in Pennsylvania, a key battleground state in 2024, for updates to Roosevelt Boulevard, regional airports, and much more.
Taking another swipe at Trump, Biden said, "A great real estate developer, the last guy, he didn't build anything big." "Under my predecessor, a basic framework turned into a five-alarm blaze."
At the heart of his speech, Biden also addressed another major issue affecting his re-election bid: his age.
Concerns about Biden's age have been expressed by both voters and potential candidates. A recent Associated Press poll found that 77% of the public said Biden (who turned 80 last year) is too old for another term. Only half of American adults said the same about Trump, who is 77.
Biden said on Monday, "Let me tell you what some have said, 'Well, that Biden, he's getting old.'" "Well, think about it, with age comes the only thing that comes with it, a little bit of wisdom."
He said, "I've been doing this work for a long time, and with your help, I'll keep doing it."