August 11 (UPI) – A person from Michigan has won their second major jackpot from the state lottery's Club Keno The Jack game, setting a new record.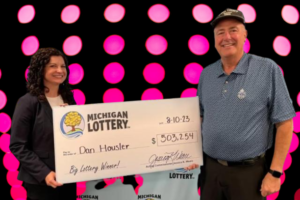 Dan Housler, a 62-year-old from Portage, informed Michigan Lottery officials that he frequently plays Club Keno The Jack.
He said, 'When the prize gets to around $100,000, I play Club Keno The Jack.' 'I've been lucky in the past and won a prize of $239,074 a few years ago.'
Recently, Housler played the game at Fletcher's Pub Number 2 on Oakland Drive in Kalamazoo and his The Jack numbers, 2230786, matched eight out of the 20 Club Keno numbers drawn.
Housler mentioned, 'I bought my ticket and headed home from Fletcher's.' 'When I got there, I checked my and my wife's tickets. On my third ticket, the confetti app screen flew and the prize screen showed up. I was really amazed. I had never seen that much money in my life all at once.'
From the ticket, he received a prize of $503,254 – the largest jackpot in the history of the game.
Housler stated that he plans to use the prize money to cover his retirement expenses.
He said, 'Winning it at my age means I can pay off some bills and set myself up for a comfortable retirement.'"