HONOLULU – On Wednesday, due to the winds, a forest fire spread in parts of Hawaii, causing historic Lahaina town structures on Maui Island to be engulfed in flames. This compelled residents to vacate the area, and some individuals started fleeing towards the safety of the sea, where the coast guard rescued them.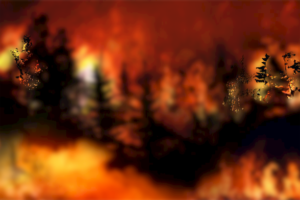 Maui County tweeted, "Stay out of Lahaina Town," hours ago, as all roads within and leading out of the largest community in West Maui were shut down, except for emergency personnel.
County spokesperson Mahina Martin explained over the phone Wednesday morning that the fire had spread on a large scale in Lahaina, including Front Street, which is a bustling area with an approximate population of 13,000 and is popular among tourists. She noted that traffic was heavy as people attempted to leave, and officials advised those who were not in the evacuation area to find shelter to avoid congestion. The county posted pictures throughout the night showing flames engulfing a street corner in Lahaina and flames leaping over buildings, including those on the National Register of Historic Places.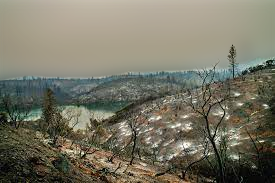 The National Weather Service stated that Tropical Storm Dora, which was passing 500 miles south of the island chain, was partially responsible for winds exceeding 60 mph, leading to power outages and disturbances within homes. Rescue helicopters were deployed to the ground. The Weather Service said that the situation of dangerous fires, fueled by strong winds and low humidity, was expected to persist until Wednesday afternoon.
County officials carried out operations on Tuesday in the areas where people had fled to the ocean to escape the situation of fire and smoke. The coast guard tweeted that a team rescued 12 individuals from Lahaina's waters.
Acting Governor Sylvia Luke declared a state of emergency in response to Governor Josh Green's request and activated the Hawaii National Guard for assistance.
Martin mentioned that they had no information about any fatalities, only injuries, including a firefighter who was hospitalized due to smoke inhalation. The count of damaged structures or the number of evacuated people wasn't available, but she stated that four shelters were open, with the largest accommodating over 1,000 individuals.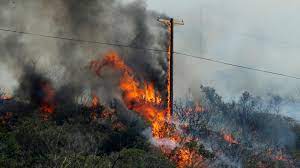 "It's unprecedented," Martin said, assessing the widespread impact across districts. She stated that nighttime emergencies are particularly daunting due to darkness obscuring the extent of damage.
She said, "Everything is fine for the time being, and we can't wait for the day to begin."
The fire wasn't confined to Maui alone. According to the Hawaii Emergency Management Agency, the Federal Emergency Management Agency approved a disaster declaration to assist with a fire that threatened a small rural community, Kohala Ranch, and its surrounding nearly 200 homes. When the request was made, the fire had already consumed more than 600 acres and was not contained.
Firefighting brigades in Maui were battling several fires concentrated in two areas the sightseer destination of West Maui and an innards, mountainous region. residers of West Maui were instructed to phone the police department directly because there was no 911 content available there.
Martin said that due to gusts of wind, the copter could not drop water on the fire or directly estimate the size of the fire because of the swirling air patterns.
The firefighters were also dealing with blocked roads due to fallen trees and power lines, as they were working on containing the internal fire.
According toPowerOutage.us, around 14,500 guests in Maui were without electricity on Wednesday morning. Martin said,
" Fires have started and stopped multitudinous times in vibrant sections, making moment one of our islet's more delicate days."
He mentioned that breezy winds of over to 80 long hauls per hour( 129 kilometers per hour) were recorded on Maui, and a fire that had been contained on Tuesday burned up again a many hours latterly, driven by strong winds.
Assistant Fire Chief Jeff Gisaya mentioned," The fire can be a afar or further down from your house, but in one or two twinkles, it can be at your Mayor Richard Bissen of Maui reported that the blaze, which spread across around 1.7 square long hauls (4.5 square kilometres) in the Kula region, claimed at least two homes. Maui.
About 40 places and about 80 people were vacated. Mayor Mitch Roth of the Big Island mentioned emptying about 400 homes across four communities in the northern part of the islet, stating," We are trying to cover homes in the neighbourhood.
On Tuesday, he reported that a house's roof had caught fire. Fires in Hawaii burn else from backfires on theU.S. landmass. They enkindle in large grassy fields on the dry plages of the islets and are generally much lower compared to landmass timber fires. Hawaii's Mount Kilaua powder keg has erupted again.
Watch it live. Environment Hawaii's Mount Kilaua powder keg has erupted again. Hawaii's lawgivers are considering freights for ecotourism crash. Environment Hawaii's lawgivers are considering freights for ecotourism crash.
Before mortal agreement, backfires were rare in Hawaii and other tropical islets with warm climates, and the native ecosystems hadn't acclimated to them. This means that fires can beget significant detriment to the terrain.
For case, fires destroy foliage, and heavy rain after fires can wash down loose soil into the ocean, potentially harming coral reefs. In 2021, a ruinous fire on the Big Island destroyed homes and forced thousands of people to void. Adam Ventraub, the dispatches director for the Hawaii Emergency Management Agency, stated that Oahu,
where Honolulu is located, was also dealing with power outages, fallen power lines, and transportation issues.