Apple Stock Price Forecast: In the past week, Apple's stock (NASDAQ: AAPL) saw a 5% increase, impressively returning 51% to investors year over year.
Could this year see the stock surge even higher and ultimately cross the $200 mark?
**A New iPhone Launch is On the Horizon**
Apple commands over 57% of the American smartphone market share, meaning every other American owns an iPhone. With the launch of the iPhone 15 this month, we might witness another stock rally, as historically, Apple stock has surged in the months following iPhone launches.
We can likely catch a glimpse of this on Tuesday, September 12th, at the Steve Jobs Theater when the iPhone 15 and the new Apple Watch Series 9 are unveiled. Typically, Apple makes new iPhones available for pre-order the Friday after their unveiling, with deliveries scheduled for customers and stores a week later.
**Analysts Are Bullish**
Amit Daryanani, an Evercore ISI analyst, wrote in a research note on August 18th, "iPhone 15 is set to bring design and feature updates, and we believe the design refresh will not only rejuvenate the device but also drive a mixed [average selling price] higher, encouraging consumers to spend more and lean towards pro models over base models." Daryanani has a price target of $210.
Wedbush analyst Dan Ives has rated the stock as 'Outperform' with a price target of $230.
On August 15th, he said, "We expect price increases of $100-$150 for the iPhone 15 Pro/Pro Max versions, which should resonate well with many upgraders post-major carrier upgrades."
Warren Buffett's Berkshire Hathaway portfolio now holds more than 51% of Apple stock and has yet to sell any. For comparison, their second-largest holding is Bank of America (NYSE: BAC) at 8.5%.
Apple Stock Price Forecast: This has proven lucrative for Buffett, as the stock has grown over 600% since Berkshire started buying shares in the first quarter of 2016.
**Apple Stock Technical Analysis**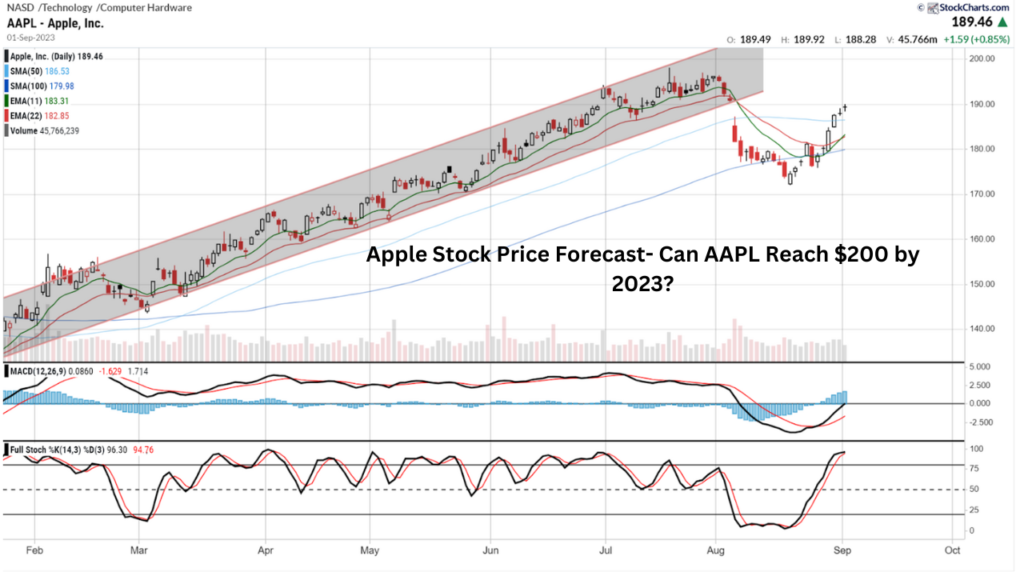 Apple's share price had been trading in an upward channel from the beginning of the year until the start of August when it broke out of this channel. The current support price level is at $175, and it has successfully held the price from dropping below $150 in the last month.
Currently, it stands at a resistance level of $190, but considering that the price had broken approximately $200 just a month ago, it's likely that $200 is the target for Apple stock.
Apple has outperformed the S&P 500, delivering investors a generous 51% return compared to the S&P 500's 18% return.
**Invest Now with Interactive Brokers – The Most Advanced Investment Platform**
Disclaimer: Nothing on this website should be construed as investing advice. Investing involves risk, and your capital is at risk when investing.